The other side of the fence
A short essay on a brief experience in Tulum
Covering topics from urban mobility to dream homes, a newsletter that reminds us where we are matters. Would mean a lot to me if you subscribe.
---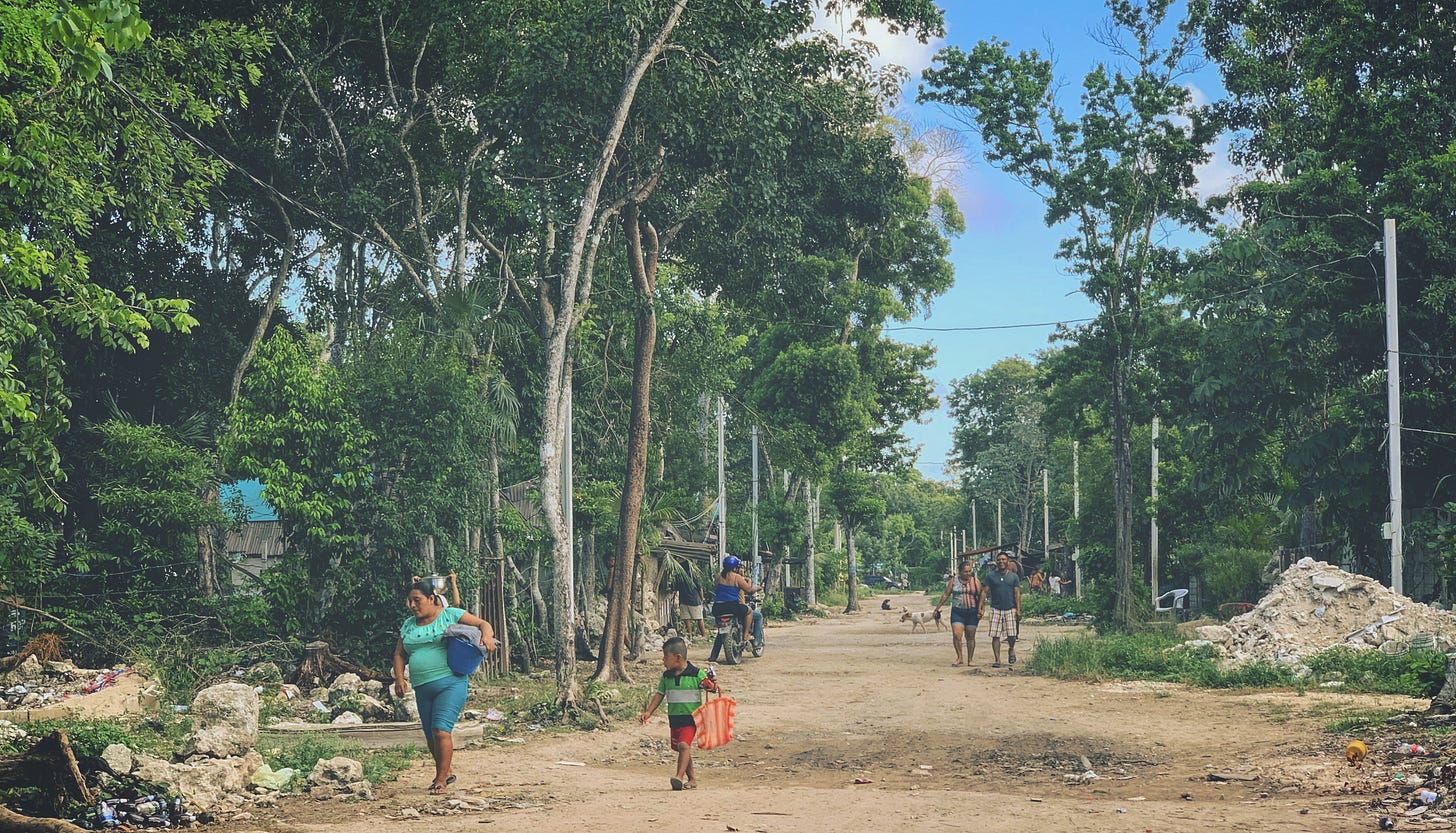 The most beautiful thing I see in Tulum is the life between the trees.
This morning, I took a walk through the trees to find inspiration. Often when we wander through nature we capture onto paper what we observe.[1]
Aldea Zama is a neighborhood in the heart of Tulum along the pristine Caribbean coastline of Riviera Maya. It is dotted with beautiful resorts and avant-garde villa retreats, designed to promote a self-sustaining lifestyle with eco-friendly construction. They are polished with white stucco walls, large floor length windows with modern black metal frames, and palm leaf-lined gabled roofs. Each of the resort complexes is complete with an outdoor pool, fringed hammocks, and tropical vegetation-filled courtyards.
During my walk, I passed by the sound of construction and tunes of mariachi and bachata. New housing developments are continuously being built in the neighborhood. Many of the developments are said to preserve 70% of the vegetation on site.[2] I wondered to myself: will they reach a capacity to the point that houses will eventually take over nature? How will the neighborhood look like years from now?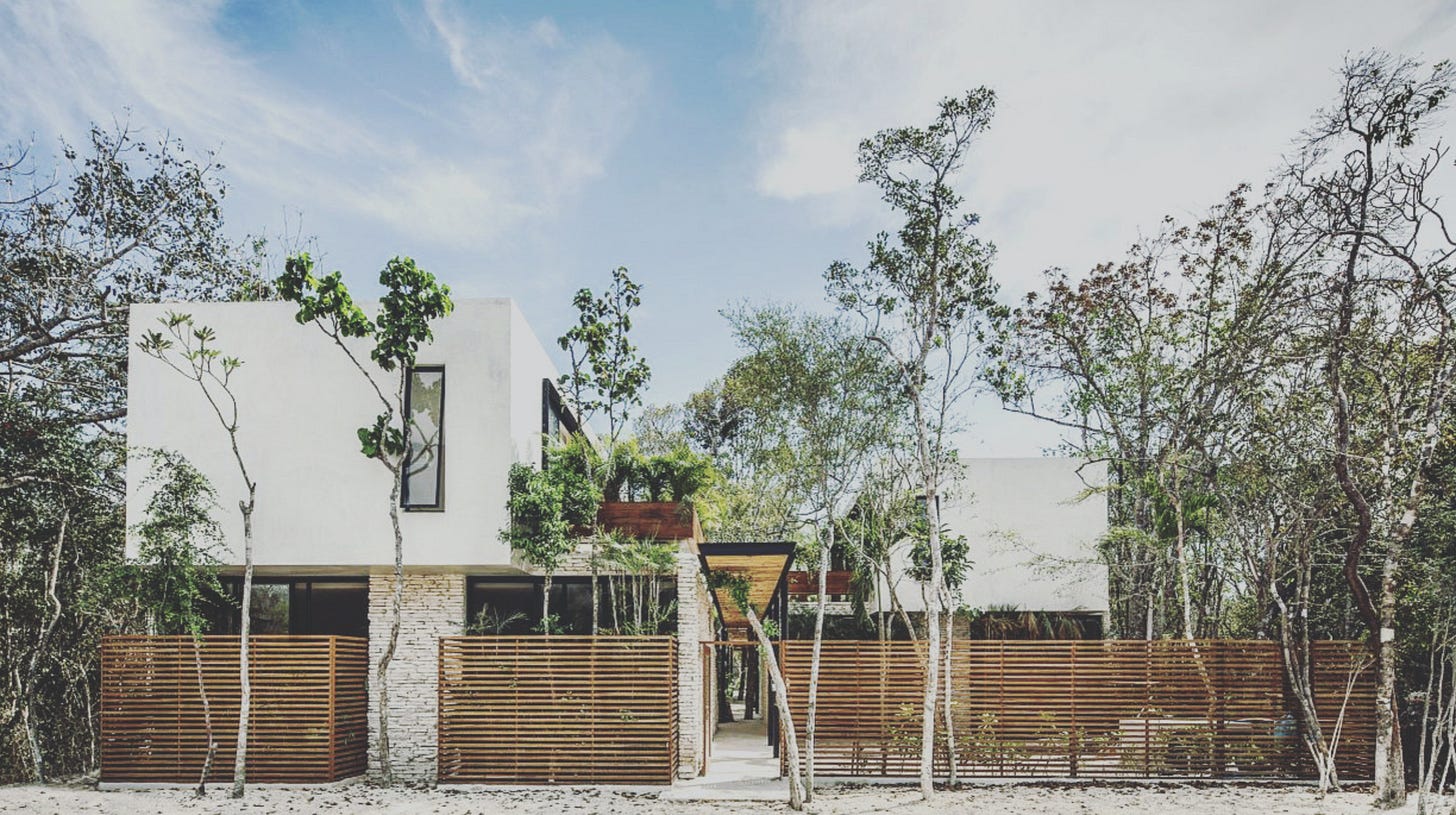 Apartment complex designed by Studio Arquitectos (source:

Dezeen

)
As I wandered near the edge of the neighborhood, I noticed a fence. Drawn by curiosity, I walked across to the other side.
Suddenly, I plunged into a different world. 
—
I see in front of me a green village in between the trees — rural, yet authentic; secluded and hidden behind the modernity of Aldea Zama.
The houses are not made of concrete nor clean wood for that matter. I see the same architectural style of gabled roofs but without the decorative palm fronds. Under these coarse roof structures are unpolished wood stringed together to form "walls". There is no paved flooring; the construction is simple. They look raw, yet just enough to protect from the tropical storms of the region.
I hear the sound of chickens, the chatter of neighbors sitting in front of their houses facing the village street. I run into a group of dogs. They are street dogs that belong not to a single owner but to the village.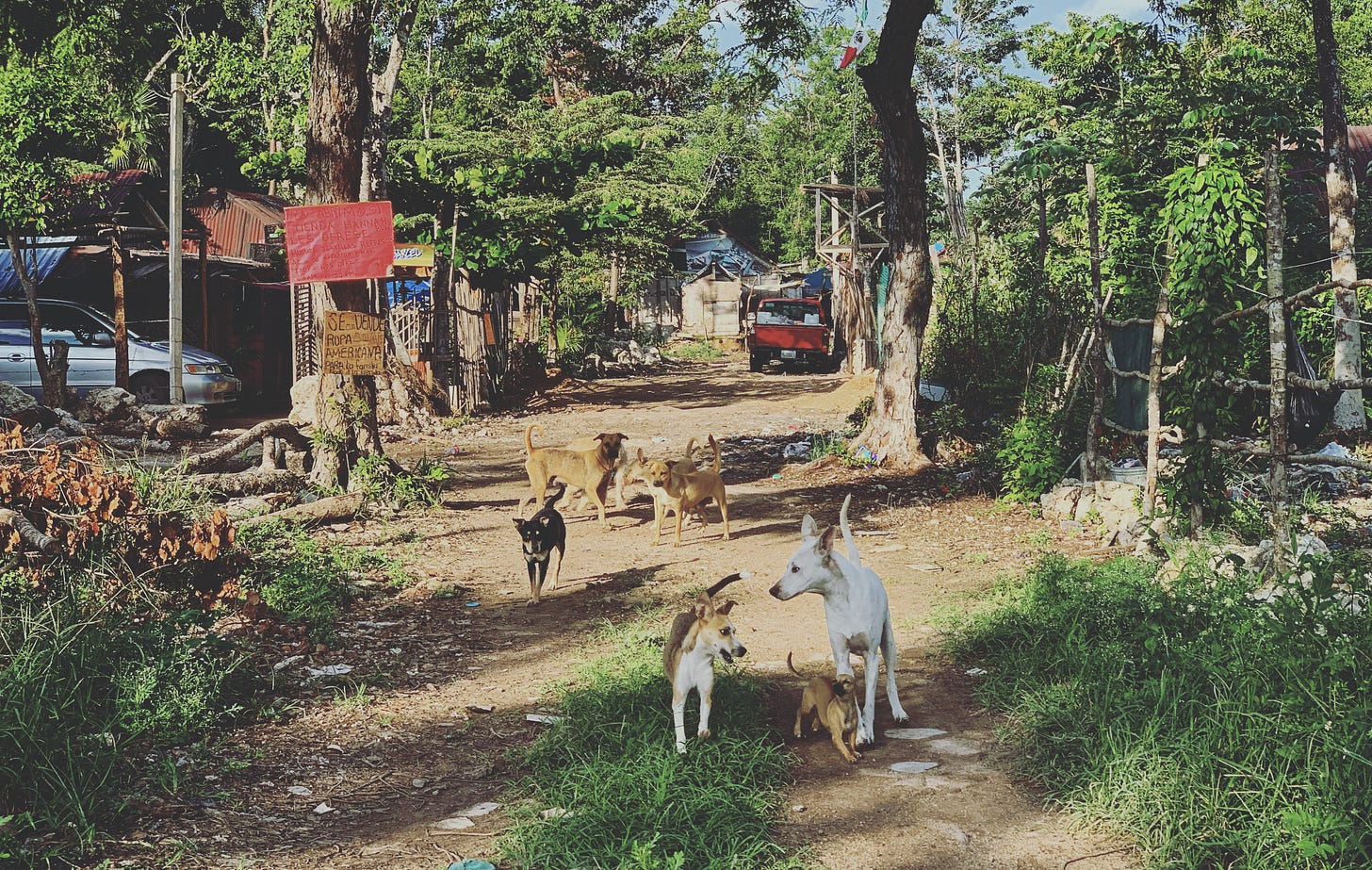 I look around. It's a peaceful scene, a bustling morning of people commuting to the town nearby for work. Some seem to be making a living at the construction sites of Aldea Zama. Some sell a small inventory of snacks from their window to passerbys. 
It is green everywhere. The village resides amongst the dense tropical foliage and clusters of plantations. The sunlight refracts from the foliage to radiate a kind of warmth.
As I walk around, a voice stops me.
"Amiga!"
A little girl of seven or eight, clad in pink, bikes up to me. I'm not sure what she said. She signals "follow me". 
She leads me to a group of her friends along with a perrito.[3]
Is this your dog? They seem to be asking me. 
No. 
I wish I can talk more, I wish I can understand more. But I can't.
They try to make conversation, without any fear for a stranger. Perhaps realizing that the dog is not mine, they walk away and continue their playful search for the owner.
Later in the day I run into her again near a Starbucks and see her walking around with her friends selling snacks. We wave, pointing towards the village where we met in the morning, and smile at each other.
It feels as if I had made a friend.
I'll never know what they said. I'll never know how life feels like in this village. I just know those who live here must be proud -- proud of their home and of Tulum.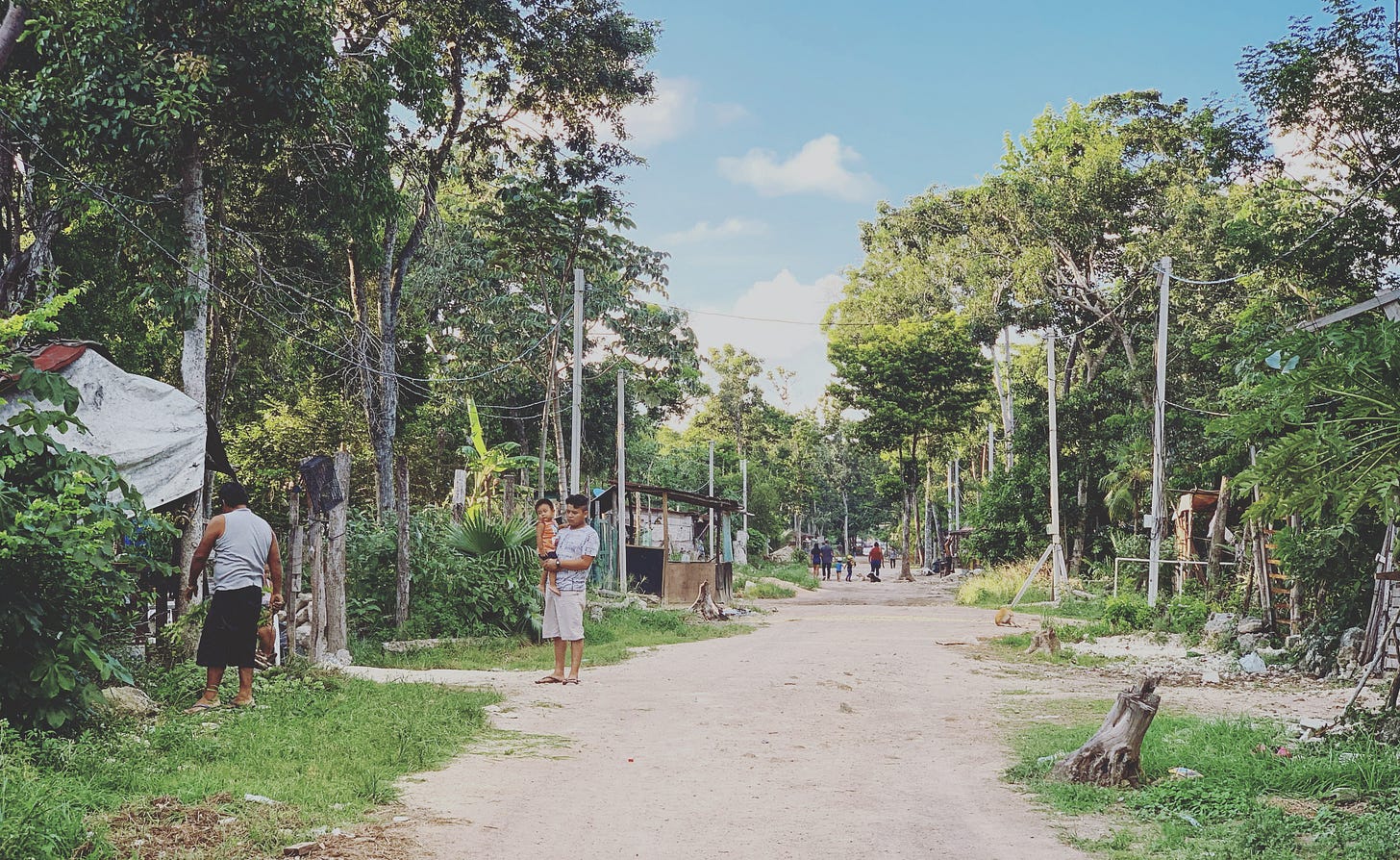 Before crossing back to Aldea Zama, a man in the village asks me, "¿Te gusta tu viaje?"
That I understand, "Sí, me gusta."
I do like it a lot. I wish I could express more than just a simple "I like it". I love how you don't really see cars. I love that all you see is green. I love the sort of energy and life in this little village. I love how the housing developments on the other side pay great respect to nature; they leave as many trees intact as possible and build houses and sidewalks around them.
As I wander back to the other side of the fence, it dawns on me that there is a fence, a physical barrier separating the two communities. 
My gut tells me life may be happier on the other side of the fence. It is true that they are struggling; they do not have access to the same education and opportunities; life for them perhaps rarely extends beyond the village. Yet, there are things they have that we have forgotten. The idea of knowing your neighbors, of walking out of your house and being greeted by familiar faces, of living in a village where everyone knows your name. I think living in a place like this makes you happy, where you are surrounded by a community, where you will be answered the moment you reach out for help. 
Despite being fortunate in many ways, we don't always experience the sense of belonging that is fundamental to our well-being. The sunshine of the village poses a stark contrast against the rooms in Aldea Zama. We have air conditioning, yet it feels damp and cold. When I sit in the living room, I cannot see the outside world; I feel confined in the space that I am in. Behind the beautiful slatted wooden screens, everyone hides in their room. The way the building is designed segregates us from one another. Doors are tightly shut. Knocking on others' doors seems intrusive. I almost wish I could peek through the cracks of the concrete to know that I'm not alone in the house. Even though I live in a house with many, sometimes when I seek company, I cannot find them.
The rooms are designed to be luxurious and comfortable, yet it's almost artificial — a rejection of the outside. These rooms prompt us to stay inside amongst the bespoke furnishings, to keep us to ourselves and be wary of others. We hide in the comfort of this sanctuary, behind the white concrete; but at the same time, we miss the element of sunshine, natural beauty, and the community outside. Through developing modern communities and building elaborate architecture, we tend to focus on the luxury and the prestige. We often overlook the social implications, thereby losing the benefits that traditional communities have.
Thinking back to what I saw on the other side of the fence, I think given the choice, they wouldn't choose to live a different way.
There, you can't escape the sunshine. It feels alive.
Architecture in many ways defines how we feel, behave, and how we spend our time. It affects our perception and influences how we treat one another. Seeing the lifestyle of the village, it makes me more aware of why others around me behave the way they do; perhaps hiding behind the walls is not a conscious decision but an inevitable result of the environment. When the environment is not in our favor, it calls for a more conscious effort to build relationships.
—
After this short journey, I came back energized. 
Still lounging with my cup of overnight oats and chia seeds, I felt invigorated to start my day. 
Aldea means village, I'm glad to have experienced what a true village really means, even for just a brief while.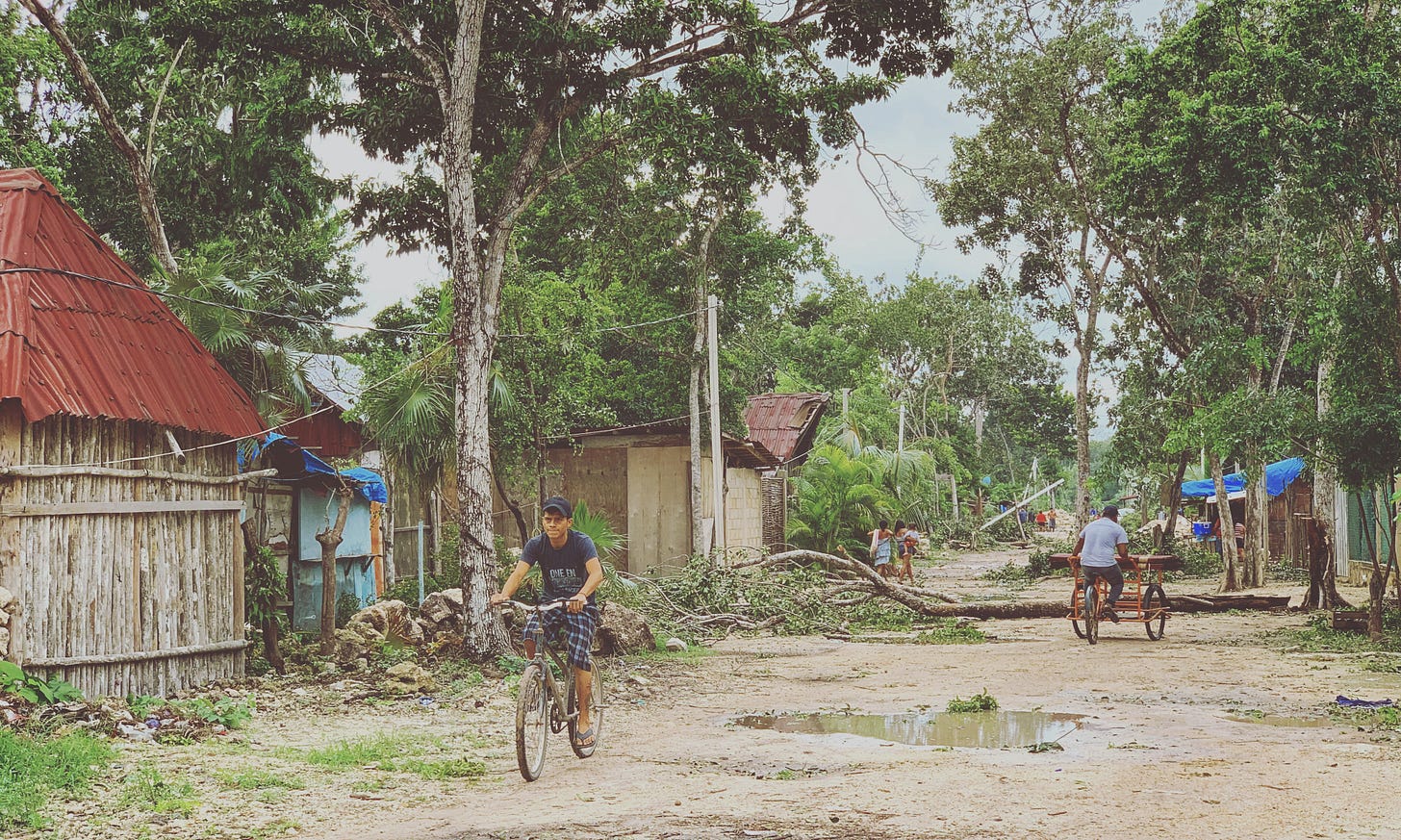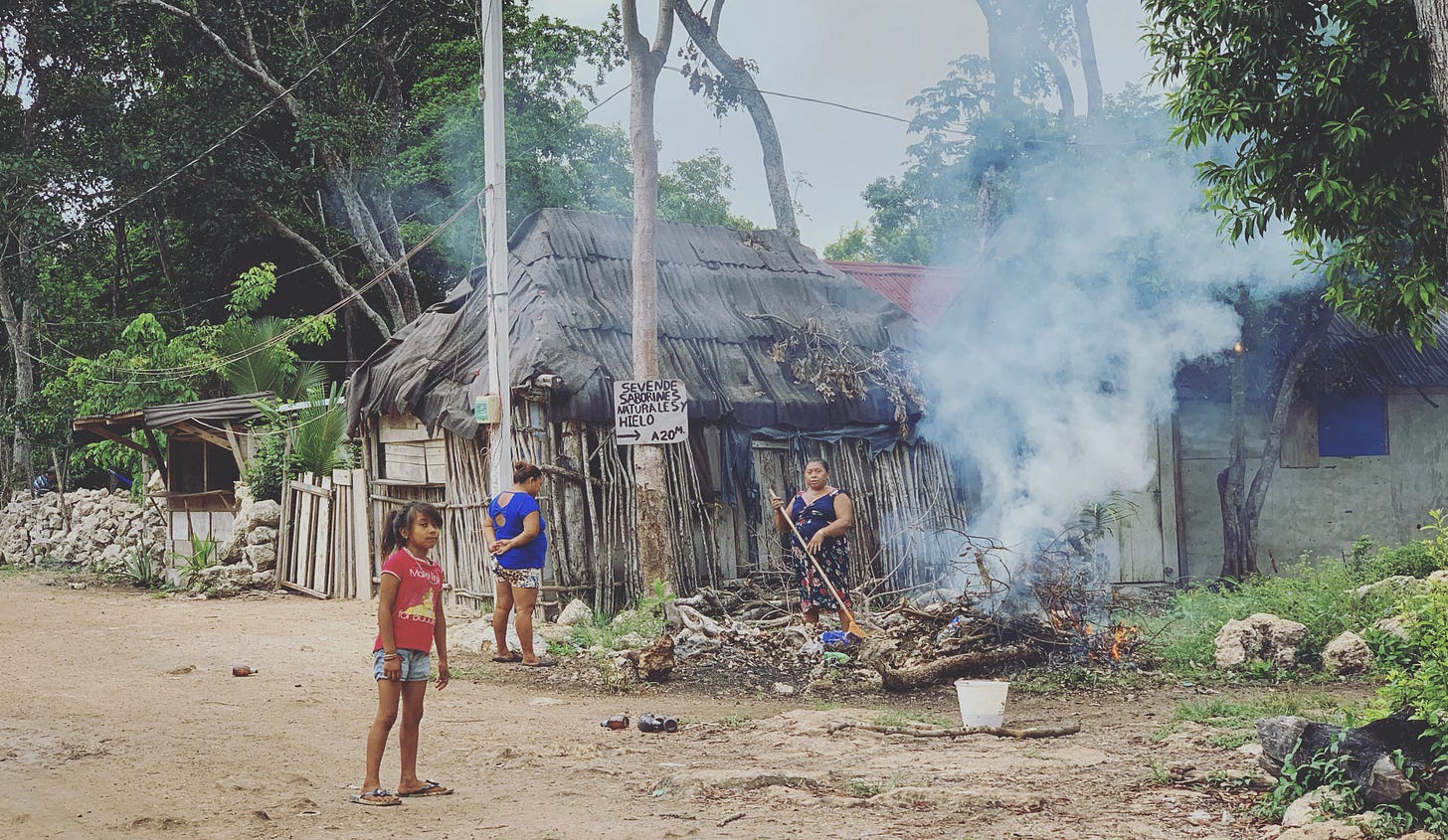 Footnote
[1] Description about poet Mary Oliver from Write While You Walk by David Perell.
[3] Puppy in Spanish.
© All photos taken by me.
---
I've been wandering about in Tulum lately, observing and really appreciating the green surroundings. Curious to learn more about the history, the present, and the future of the region, as well as the stories behind the beautiful architecture.
Talk soon, 
Coco